Who we are
About Virunga
Welcome on this journey towards Central Africa, more precisely at the Virunga mountain side. Virunga Coffee is born in the high mountains of Central Africa, an area that is characterized by respect and quality.
Its volcanic soil, abundant in mineral salts, enables the cultivation of coffee trees at a height of approximately 1500 metres, resulting in Arabica coffee beans that contain the most subtle tastes.
Manually cultivated with the utmost care, our Organic and Fairtrade certified Arabica beans are the start of an unforgettable and tasteful getaway at every sip you take.
We are delighted to share the knowhow we have gathered since 2017 with you.
Sustainable agriculture

Our producers are part of a sustainable agriculture approach, mindful of nature.

Organic coffees

All our coffees come from organic farming, labeled BIO and Fairtrade
Ecological packaging

Our coffees are packaged in ecological packaging

Biodegradable capsules

Capsules compatible with Nespresso machines and biodegradable
Our coffees
Made from the most prestigious varieties from the east of the Democratic Republic of Congo and Rwanda, our coffees are subtle and preciously balanced.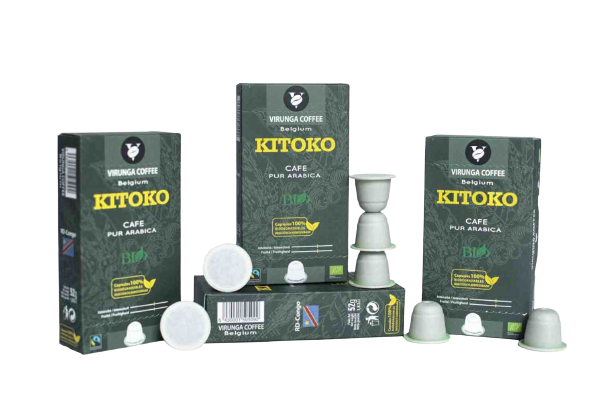 Coffee capsules compatible with Nespresso® machines.
These biodegradable capsules are fully compatible with Nespresso® machines and are packaged in cardboard boxes.
Choosing our capsules means ensuring quality, the best prices and a wide choice for your greatest pleasure
Bean and ground roast coffees
Discover our bean and ground coffees with sublime aromas.
Our coffees are carefully selected and roasted.
Each coffee is unique by its terroir and its variety.
Our coffees are equipped with a reclosable zip and a valve, in order to retain all the aromas.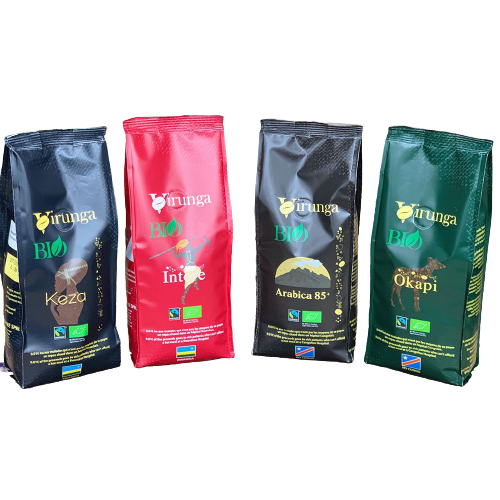 Our clients say
Testimonials
Anita Keza
I'm glad I got to try Virunga's coffee, it's one of the best coffee I've ever had 😊 Keep up the good work!! I recommend it to whoever like good quality coffee, single origins or Arabica coffee 👌
A J
Un café Arabica exceptionnel. J'ai dégusté, j'ai kiffé.😋
Simon Triv
Très bon café avec des arômes que je ne connaissais pas !
William Avadu
J'ai eu la possibilité de gouter à votre café et ça été une jolie découverte
Virunga Coffee
Our Presence